Share Your Story: Stephanie Lynn Christianson; Arachnoiditis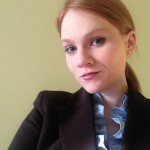 One day in May 2006, out of nowhere I was suddenly overtaken by pain in my knee. I saw the orthopedist, whom at the time was on the fence about proceeding with a surgical intervention. I had the surgery, but the pain never really went away. I left for my freshman year at Vanderbilt University still feeling slightly off. I had been there a month when the pain began to spread gradually to encompass my entire left leg. I was unable to leave my dorm room and climb the stairs and getting food was an absolute challenge. I was 18 years old at that time and terrified.
The third doctor I saw trying to address what was going on finally realized I had Chronic Regional Pain Syndrome (CRPS). The only thing I can remember from that day was the effect it had on my mother who fully understood what this could mean for my quality of life. Needless to say, she was devastated. At that point in time, I was an ostrich with my head in the sand. I found it painful at first to even think about what was happening to my leg. My family worked relentlessly and we traveled the United States looking for a proper intervention and treatment for CRPS.
In the meantime, I was in the middle of my undergraduate career. I had to take off whole semesters because at that point I was unable to function enough to really make the most out of a stellar education. There were even times when I would start a semester and have to leave or reduce my course load. I was fortunate enough my University worked with me and my very unique situation. I will always be grateful to them.
Inch-by-inch, we explored every routine surgery procedure related to CRPS, infusion, implanted device, medication therapy, and holistic remedy. It wasn't until SkyMall, that crazy magazine with the high prices and crazy objects, and a dud of a visit with a holistic specialist in Maryland to find what we were looking for therapeutically. As we took off, my mother found an ad in SkyMall for the Dellon Institute and quite literally ripped the page out of the magazine. After speaking to the surgeons involved in these techniques and interventions, I found the right match with Dr. Sean Wolfort, MD. After a series of nerve trans-locations (where they moved my hyperactive nerves into dense tissue to trick your body), it appeared I was gaining mobility.
College still posed a problem. There were so many doors and inaccessible areas for those with physical handicaps. It took me approximately 5 years into my diagnosis that I really began to advocate for both the pain community as well as those with physical disabilities. I rely on crutches (a single if it's a good day, a double if it's not) and found that posed some very significant obstacles if you were going to pursue rigorous studies. I was finally ready to talk about what I go through in living with CRPS at a young age and the journey I have taken. As such, I looked inside my community, which at this time was the entire University. Those without physical handicaps fail to realize the struggle people have obtaining food when they rely on crutches, canes, wheelchairs, and all other mobility aides. With enough tenacity, I was able to implement a program that helped anyone either in an acute or chronic state that needed help getting the basic necessities. Moreover, I participated on a committee aimed solely on making the campus more accessible. Things such as maps clearly indicating where elevators were in buildings or adjusting how doors open to prevent injury to the person.
This ongoing experience has shaped my life and has motivated me more than one can possibly imagine. Prior to my diagnosis, I was determined to pursue a career as an attorney. Following my diagnosis, I have realized the best way to implement change is to roll up your sleeves and get to work. I have grown tremendously and have accepted some days will be more painful than others. I believe in keeping my goals in sight as it provides me with the fortitude to go on and work through it all. Here and now, at age 27, I have been fortunate to work in a laboratory that deals primarily with pain management toxicology and pursue my doctorate in neuroscience. I am sincerely hoping to bring some degree of relief to the CRPS patients of the world.
Thank You! Stephanie Lynn Christianson