BE THE GIFT OF HOPE – BE A HERO
By Barby Ingle
In January my last living grandparent passed away. Now, my father has failing kidneys and is on dialysis. For the past two years he has been in desperate need of a kidney transplant. A little over a month ago, I lost my mother to COPD. What a whirlwind this all has been. In this time of sorrow and loss a miracle happened that I want to share with you all; make that 6 miracles in one.
One of our Executive Board members, Tenah Callison lost her son on the same day my mother passed. As a matter of fact, when Tenah called to tell me that her son Dalton was a registered organ donor and that they decided if my dad was a match that he would get the lifesaving kidney was the exact time my mother passed. Tenah and I were both praying and holding each other up even though we were thousands of miles apart. It turns out Dalton was a match to my dad. It was all so surreal. I can't even put into words that amazing things that had to fall into place for this to happen.
The next morning my dad headed to the hospital for his final check before the transplant would take place. During that exam they found that he had two heart blockages. These blockages were not there in December when he was last tested. He was rushed into emergency surgery and was unable to receive the kidney coming from Dalton. My dad is still on dialysis and healing from heart surgery. There is more news coming on this front that I am not ready to share. Over the next few months your prayers are still needed that this process will all work out for my dad and a living donor who has since come forward for him. I pray that in the next few months he heals perfectly and is ready for that life giving chance. Not only for him, but for the selfishness of me, my siblings, and his 6 grandkids. We need our daddy and Grampa, he is the great patriarch of our family.
Back to the miracle of multiple miracles. A while back Dalton had told Tenah that he wanted to be an organ donor. He knew that was one of his purposes here on earth. He had it marked on his driver's license. The second part of his actions Tenah did not know about until after the accident that lead to his life in our world was complete. Dalton took the needed step of enrolling as a donor on his state donors register. Most people think that just obtaining or renewing a driver's license that states you are an organ donor is enough. There is an extra step with internet registration that makes the decision so much easier and smoother process for all involved. Dalton knew in his heart that he wanted this, he expressed it to his family, signed up at the DMV and registered on the state site.
Most potential donors are admitted into a hospital because of an accident that involved severe head trauma, brain aneurysm or stroke. With Dalton it was a head injury after the car he was riding in pulled over to the side of the road due to a flat tire and was hit from behind by a passing car. His hospital providers worked hard and long, doing everything possible to save his life. Tenah being a pain patient herself also made sure that they provided him pain care in case he was feeling any pain from the accident. A smart choice while testing him and working to save his life, as good pain care is also important. After they tested him for brain death and exhausted all possible lifesaving efforts with no response from Dalton preparations were made to fulfil his wishes to be a donor. Dalton saved 6 lives that day. 5 with vital organs and my father.
If you are planning to be a donor after you pass, please do what Dalton did. Register as a donor with your state agency (see link at the end of this article). If you are not registered in the data based the providers will seek consent from your next of kin. Make it easy on your survivors and let your wishes be known.
It is so important that if your wishes are to be an organ donor like Dalton was that you know how the system works. Did you know that there are options for living donors as well as donors who have passed?
Do you know that by being a donor you give the gift of hope to families and friends of thousands of individuals waiting to find their match for their life to be enhanced through organ donation? Each day, about 80 people receive organ transplants. However, 21 people die each day waiting for transplants that can't take place because of the shortage of donated organs. There is a need for living donors and it's becoming more common to donate organs or partial organs while living. For living donors the type of orangs you can donate include a kidney which is most common, as well as a lobe of a lung, partial liver, pancreas or intestine.
This article is in loving memory of Dalton Bryant Callison – March 25, 1993 – May 2, 2015. I will forever be grateful for Dalton's gift to my father and the other 5 families that his sacrifice assisted with his life giving miracles.
To register to become a donor in memory of Dalton B. Callison please visit www.donatelife.net
For more information on becoming a living donor, go to www.transplantliving.org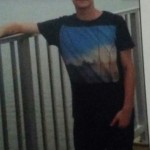 or contact your local transplant center.