Share Your Story; Donna Corley; Arachnoiditis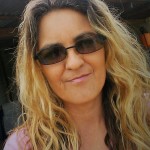 Donna Corley is a 43 year old mother and grandmother. This is her story of how she developed Adhesive Arachnoiditis.
In 2009, I had a bad fall, and landed hard on my tailbone. Two weeks later, the pain had become unbearable in my thoracic and lumbar area that I could not stand, sit, or walk without massive pain. I made an appointment to see my Primary Physician in which she ordered an MRI. A few day's later the nurse called and told me I had Tarlov Cyst Disease. I continued to work, but the pain progressed, and so did my symptoms.
As my symptoms increased, I began to research for the symptoms I was having like, burning down my spine, down through my hips, all the way down both legs into feet, the sensation of bugs crawling on my legs, and walking on broken glass when I would try to walk. In 2011, I was forced to quit my job, and file for disability, because the pain had became so bad that I could no longer work. In 2013, a good friend suggested I send my MRI's to a well renowned doctor who has researched Arachnoiditis for over 20 years, because my symptoms were closer to Arachnoiditis than Tarlov Cyst Disease. I sent him my MRI's, and 5 day's later I received the call confirming I indeed have Adhesive Arachnoiditis. The cause was from a car wreck in 1989, when I broke 3 vertebrates in mid thoracic. I was in the hospital for 8 day's, and was never told this had happened. Not only was it in my thoracic, but also in my lumbar, from two epidurals in 1992 & 1995 with the birth of my 2 boys. Again, I was never notified that my spinal cord had been punctured during both injections.
I was diagnosed in March 2015, with Chronic Regional Pain Syndrome (CRPS/RSD).
My life will never be the same again. I can not drive anymore because I can not sit for long. I sleep 3-4 hours a night because the pain. Most of my days are spent laying down, or in my wheel chair. I have to lay down every 2-3 hours to help CSF (cerebral spinal fluid) better flow to my brain because of the scar tissue inside my spinal cord canal that hinders the circulation of CSF flow in my spine.
I have lived 26 years with Adhesive Arachnoiditis, and it has taken me 24 years to be diagnosed with Adhesive Arachnoiditis. #MakeADifference #ShareYourStory #Arachnoiditis #julyARACHNOIDITISmonth